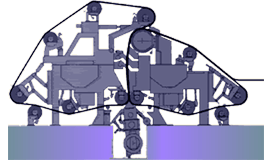 The Former is the first half of the forming section. Paper stock is supplied to the headbox and passes through the slice, which feeds it onto the forming wire.
A sheet of paper begins in the forming section, where a mixture of 99% water and 1% cellulose fiber flows between two large, fine mesh, porous belts called forming fabrics. It is here that the paper sheet is formed and the initial water removal occurs.
The wet end of the paper machine is crucial to the operation, not just in terms of paper quality, but also in terms of machine efficiency. Wet end capacity is also a limit to production rate and machine flexibility.
This Section has mainly three parts
Head Box
Wire Part
Formers