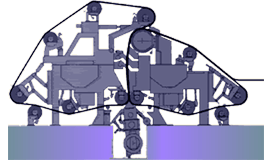 Forming Section Rebuilds
A sheet of paper begins in the forming section, where a mixture of 99% water and 1% cellulose fiber flows between two large, fine mesh, porous belts called forming fabrics. It is here that the paper sheet is formed and the initial water removal occurs.
The wet end of the paper machine is crucial to the operation, not just in terms of paper quality, but also in terms of machine efficiency. Wet end capacity is also a limit to production rate and machine flexibility. We offer targeted rebuilds for your wet end, from modifications to showers and mist systems, to complete new formers.
Reasons of Rebuilds
Rebuilds for Quality: Many Paper properties are defined by the wet end: formation, sidedness, fibre orientation examples of key properties that wet end configuration affects. Many of the advantages of modern machines can be built into rebuild designs, giving modern machine quality without having to buy a new machine.
Rebuilds for Capacity: Upward de-watering, additional flat boxes, couch throw on gap formers - the capacity of formers can often be significantly increased in a rebuild, leading to higher production rates, lower headbox consistency, or a combination of both.
Rebuilds for Efficiency: Mist control systems, vacuum boxes for wire cleaning showers, relocation of rolls and rework to savealls - anything that will help reduce the build-up of dirt in places where it can cause a sheet break. Our designers have vast experience in finding the causes of wet end dirt, and in designing solutions to eliminate it.