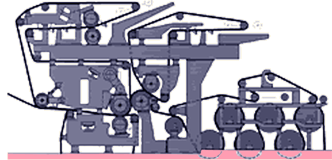 The Press Section is the second part of the forming process. After the web leaves the former, it enters the press section where it is sandwiched between two felts and squeezed between opposing rolls. This process transfers water from the paper to the felts and forces the paper fibers closer together.
Additional water is removed from the newly formed sheet in the press section, where, under high pressure, water is squeezed from the sheet into a press fabric. The press section also provides a smoothing action to flatten out the "sheet".
The press section is at the heart of all paper machines and is designed to maximise water removal, whilst efficiently transferring the web from the forming section to the dry part.
The press section influences product quality - both strength and surface properties of the sheet are effected - as well as having a major bearing on a machine's production capability. A poorly designed press section can be a contributor to poor machine efficiencies and a major source of paper machine breaks.